Emerging Technologies – Question and Answers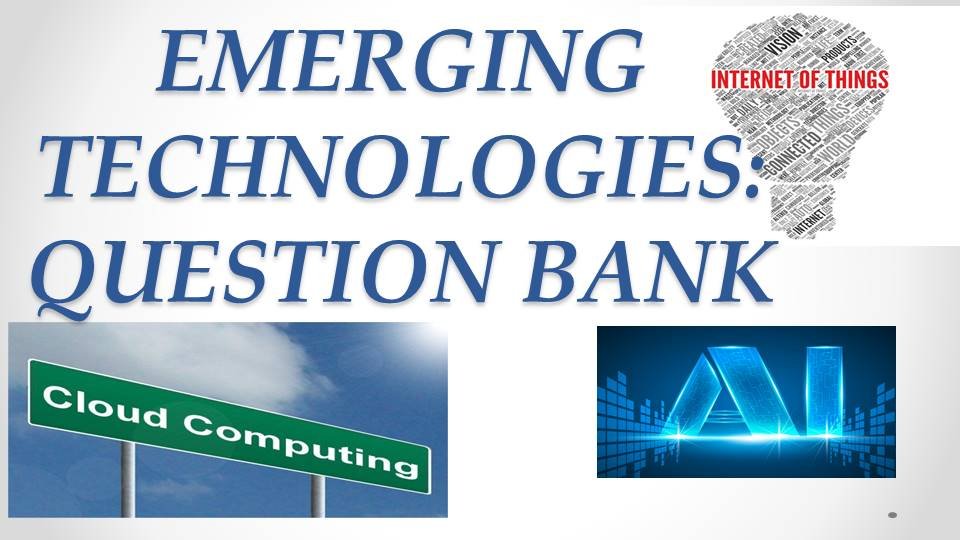 This post contains a question bank in the form of true/false, fill in the blanks and MCQ questions on the topic of Emerging Technologies.
State whether the following statements are True or False.
I0T involves internet connectivity only for standard devices
Ans. False
Embedded devices can be remotely monitored and controlled.
Ans. True
The data collected by an IoT device can be used to take decisions regarding tasks.
Ans. True
IaaS provides automated and scalable environments.
Ans. True
IaaS provides a low degree of control.
Ans. False
SaaS service provider provides applications on a remote cloud network accessed through the web or an API.
Ans. True
Public cloud is more efficient and inexpensive than private and hybrid cloud solutions.
Ans. True
Private cloud provides I.T services through the internet or a private network to general public.
Ans. False
The clouds in a hybrid environment communicate over an encrypted connection.
Ans. True
Public cloud allows greater flexibility as compared to that of Hybrid and Private cloud solutions.
Ans. False
Apple's siri, Window's Cortana and Google's ok google are examples of AI.
Ans. True
Highly advanced organizations use digital assistants to interact with users.
Ans. True
Properly programmed AI computers can give 50% accuracy as compared to tasks performed by humans.
Ans. False
AI based environments are very simple and cheap in price.
Ans. False
4G LTE (Long Term Evolution) provide Internet connections faster than 5G.
Ans. False
The high frequencies network cannot be obstructed by the walls of buildings, trees and other foliage.
Ans. False
5G network can support up to a million devices per square kilometer, compared to 4G.
Ans. True
Fill in the blanks.
The devices that are embedded with technology can _____ and ____ over the Internet.
Ans. communicate, interact
______ is a model for enabling convenient on-demand network access to a shared pool of computing resources.
Ans. Cloud computing
______, ______ and _____ are three primary service models of cloud computing.
Ans. IaaS (Infrastructure as a Service), PaaS (Platform as a Service), SaaS (Software as a Service).
PaaS service provider offers access to a cloud-based environment in which users can _____, ____ and _____ applications.
Ans. develop, manage, deliver
_____ cloud computing service provides prebuild tools to develop, customize and test user applications.
Ans. PaaS (Platform as a Service)
Amazon AWS, Microsoft Azure and Google Cloud Platform are the example of _____.
Ans. public cloud
_____ environment combines both public and private cloud elements.
Ans. Hybrid cloud
In Private cloud service all the data is protected behind the_____.
Ans. firewall
Natural language processing involves analysing and understanding _____and responding to it.
Ans. human language
______ enables machines to use real-time images to make sense of what's around them.
Ans. Computer vision
_____is about creating a "Natural, human-like interaction".
Ans. Cognitive computing
____ is used to find complex patterns in data, for applications such as image and speech recognition.
Ans. Deep learning
5G is the fifth Generation of _____network technology.
Ans. cellular
The new 5G networks will be able to transmit very large amounts of data, but only ____ at a time.
Ans. a few blocks
Multiple choice the questions.
_____is the primary factor in automation which we can save through IoT platform.

Cost
Time
Privacy
Security
Ans. 2
____ gives users access to storage, networking, servers and other computing resources via the cloud.

PaaS
IaaS
SaaS
All of above
Ans. 2
______ is the example of IaaS Cloud Computing.

Amazon web services (AWS) ec2
Microsoft Azure VM
Google Compute Engine (GCE)
All of above
Ans. 4
In _____, the providers take care of security, operating systems, server software and backups.

IaaS
PaaS
SaaS
All of above
Ans. 2
_____ service provider delivers software and applications through the internet.

IaaS
PaaS
SaaS
All of above
Ans. 3
Google's G suite, GitHub and Dropbox are the examples of ____ Cloud computing.

PaaS
IaaS
SaaS
None of above
Ans. 3
_____ manages all the services and supporting infrastructure off-site over the internet and shares it across multiple users.

Public cloud
Private cloud
Hybrid cloud
None of above
Ans. 1
_____solutions are preferred for enhanced security and privacy by the users.

Public cloud
Private cloud
Hybrid cloud
None of above
Ans. 2
5G is the next generation of _____communications.

Wireless
Wired
Both of above
None of above
Ans. 1
____technology may use a variety of spectrum bands.

2G
3G
4G
5G
Ans. 4