In this post we are going to learn more about the keyboard.
To watch our video on Keyboard – Click Here
A keyboard is a type of writing device which has buttons or keys on a flat board used to type in commands to a computer.
Before the keyboard was invented, computers used to take in inputs through punched cards or tapes.
Most keyboards follow QUERTY layout which was designed for efficient typing on typewriters.
A standard keyboard has 104 keys, though there are keyboards which have more keys- such as multimedia keyboard.
A keyboard can also be used to type in other languages like Hindi, Marathi etc.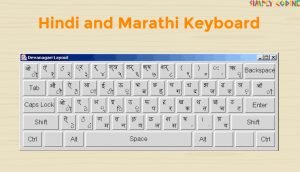 There are different types of keys on keyboard – Alphabet and Numeric.
Alphabet keys are comprised of the letters of English language and are used to type the words and sentences.
Then there are Numeric keys which are used to type in numbers. They are at two places to help us type the numbers faster.
Punctuation keys are used to type characters such as full stop, comma, brackets, punctuation and mathematical signs etc.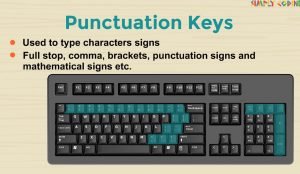 Cursor keys are also called as Navigation keys and comprise of arrows. They are used to move left, right, up and down on the monitor. Or even to completely move a page up and page down.
Function keys are typically on the top row and are marked from F1 to F12. These keys perform special tasks
There are some keys which perform special tasks. They are:
The Caps Lock Key is located on the left side of the keyboard and is used to type capital letters
Spacebar Key is the longest key on the keyboard and is used to give blank spaces between words.
There are two enter keys on the keyboard as they are most frequently used. It is used to move the cursor to next line.
Video link: https://youtu.be/5V0b2YI2s4U