In this post we are going to learn more about mouse.
To watch our video on Computer Mouse – Click Here
A mouse is one of the input devices of a computer.
It is a pointing device and it controls the cursor or mouse pointer on the monitor. So the slant arrow or the mouse pointer kind of represents the mouse on the screen.
It helps us to draw pictures and point and select objects on the monitor.
It is named as mouse as it has a wire and which looks like a mouse tail and the movement of the mouse pointer on screen is like a mouse.
Mouse originally used a ball rolling on a surface to detect motion, but modern mice often have optical sensors that have no moving parts.
A mouse has typically two buttons on left and right. Left button is used to select or click the items on monitor. Right button helps to perform some quick tasks on the monitor.
There is a scroll wheel in the center which is used to move the cursor in any direction on the monitor.
The mouse itself moves to control the cursor or the mouse pointer on the monitor. The mouse pointer moves in the same direction as the mouse moves. 
Mouse has a wire which connects to the CPU of the computer. However there are some which are wireless too.
To use the mouse you always keep the mouse on flat surface such as a mouse pad. Mouse pad keeps the mouse dust free.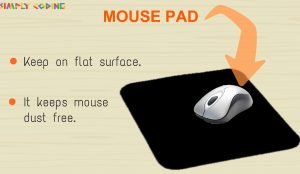 You hold it with right hand and place your palm on the back of the mouse and keep your right hand index finger on the left button of the mouse.
You operate the right button of the mouse with the middle finger.
When you press and release the left mouse button once, it is called as click.
When you press and release the mouse button twice quickly it is called as double click.
You can also drag and drop which is pressing and holding a button, then moving the mouse without releasing.
Now when you move the mouse it turns movements of the hand backward and forward, left and right into equivalent electronic signals that in turn are used to move the pointer.
If you reach the end of the mouse pad while moving long distance, you lift up the mouse, bring it to the opposite edge of the mouse pad and then bring it down and move again.
Video link: https://youtu.be/9W5R8slh5kU